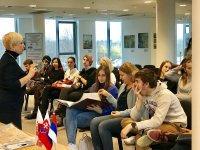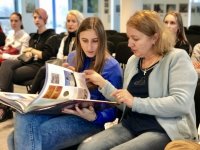 On November 18, 2019, an open lesson in Russian language and culture on the topic "Famous People of Russia and the City of Yelabuga" was held at the Russian Center of the European Foundation for Slavic Literature and Culture in Bratislava. This lesson was held for students of the Private Slovak Biligual Gymnasium.
In the first part of the lesson, they got acquainted with the territory of Russia, the population, bordering countries and regions. School students study the Russian language at school and already knew a lot of interesting facts about Russia. Therefore, some quiz questions were answered quickly.
Particular attention was paid to the Republic of Tatarstan and the city with a 1000-year history - Yelabuga. The lesson was held at the "Aircraft" Gallery, where an exhibition of paintings from the funds of the Yelabuga State Museum-Reserve called "My Russian Province" is presented.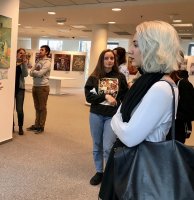 The exhibition presents paintings with beautiful views of the ancient merchant city of Yelabuga, the surrounding nature, with images of people and traditional holidays. Yelabuga is famous for its museums of famous people - the poetess Marina Tsvetaeva, the painter Ivan Shishkin, the cavalry officer of the Russian army Nadezhda Durova, the psychiatrist and neuropathologist Vladimir Bekhterev and others.
The famous cavalry-girl Nadezhda Durova is the hero of the Patriotic War of 1812 with the French, a member of the army of Kutuzov. Her personality attracted special attention of the gymnasium students. Kutuzov's army passed through the entire modern territory of Slovakia after the Battle of Austerlitz. Slovaks remember this.
In the second part of the lesson, a tour of the exhibition "My Russian Province" was conducted. In the paintings the gymnasium students were shown the images of the Shishkin house-museum, told about the life and works of the painter.
At the end of the lesson, schoolchildren were treated with sweets "Mishka Kosolapiy", on the wrappers of which a picture of Shishkin is depicted. The winners of the quiz received prizes with the symbols of the "Russian World" Foundation.
The lesson was accompanied by video stories about the city of Yelabuga and the museums of the city.