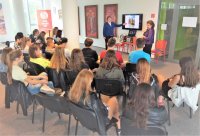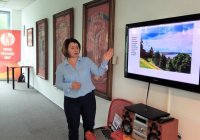 On the 7th of June 2019, an open lesson on Russian language and culture devoted to the Independence Day of Russia was held in the Russian Center of the European Foundation of Slavic Literature and Culture in Bratislava.
High school students and teachers of two gymnasiums from Bratislava named after Ivan Horvat and Galileo Galilei came for a visit.
High school students familiarized themselves with the official regalia and symbols of Russia, the history of the holiday of the Independence Day of Russia, the capital and main cities, the Volga and Yenisei rivers, various peoples inhabiting Russia, and many religions.
The attention of visitors was attracted by the closeness of the mentality of the Russian and Slovak peoples, the penetration of two Slavic languages into each other, and the similarity of flags.
The two Russian cities of Yaroslavl and Nizhny Novgorod were presented in details. Natalya Starikova, the head of the photo studio, showed a collection of her photos about visiting these cities.
At the end of the open lesson, the gymnasium students visited an exhibition of paintings by the famous Slovak painter - Adolf Benz in the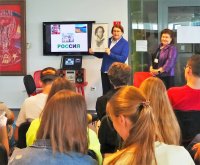 "Aircraft Gallery". The author came to the meeting with the students. He introduced the visitors to his works and world view. He said that only culture can withstand the modern aggressive world.
The originals of the works of the outstanding author of world significance made a strong impression on the gymnasium students and provoked violent emotions.