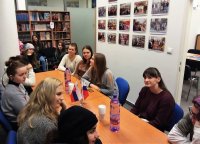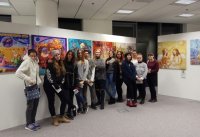 On the 20th of November 2018, in the Russian Center of the European Fund of Slavic literature and culture in Bratislava an open lesson, devoted to the modern Russian art, was held.
Students came from several secondary vocational schools in which they study skills of various professions, including industrial design, information technology, medicine, etc. Students came to study in Bratislava from different regions of Slovakia and currently live in a boarding school located in Ivanska cesta street. The boarding school is located not far from the Russian Center. Not for the firsttime students come to visit Russian Center.
Students came to the Russian Center with the teacher Slava Manova, who wanted to acquaint students with the possibilities of studying Russian language, with the library and other resources of the center.
After becoming acquainted with the activities of the center and the Russian language quiz on the subject of modern art, students moved to the gallery. They got acquainted with the art exhibition "Wheel of Friendship" from the funds of the Elabuga State Historical-Architectural and Art Museum-Reserve https://russkiymir.ru/news/247795/?sphrase_id=864261.
The international art exhibition under the symbolic name "Wheel of Friendship" has collected more than 150 works of artists from 21 countries and representatives of various nations living in the territory of multinational Russia.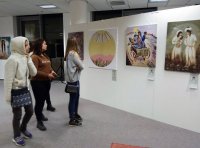 The meeting was held in a warm atmosphere and ended with a treat of Tatar national sweets.