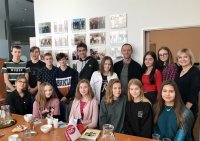 On November 19, 2019, the students of the school at Podluzhanka from the city of Levice came for a visit to the Russian center of the European Foundation of Slavic Literature and Culture for the fourth time. An open lesson in Russian language and culture on the topic "The Golden Ring of Russia" was held for them.
Students of this group came for a visit to the Russian Center for the first time. They got acquainted with the activities of the center, the library funds and online resources. During the open lesson was a discussion about the role of the Russian language in the world.
A presentation of the cities of the Golden Ring was presented on the screen. A fragment of the movie about Alexander Nevsky, who was born in one of the cities of the Pereslavl-Zalessky ring, also was shown. Beautiful views of Sergiev Posad, Kostroma, Yaroslavl, Velikiy Rostov, Suzdal, Vladimir and other cities were shown.
The presentation was completed by the unique ringing of the bells of Velikiy Rostov. Then, according to the tradition, the quiz was conducted. The students had to guess which city views and sightsings belong to which city. The winners received prizes with the symbols of the "Russian World" Foundation.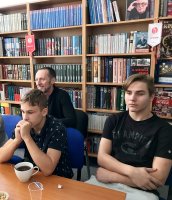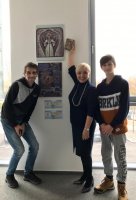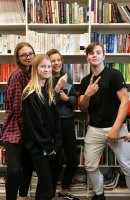 An interactive lesson was held in a relaxed atmosphere with a tea party. Students were treated with Tatar sweets. Visitors also were treated with Yelabuga gingerbread, and then found its image in the paintings. Students were looking at photos on the wall trying to find out who of their school students had visited the Russian Center before.
Then the lesson continued at the "Aircraft Gallery", where students heard a story about the old Russian city of Yelabuga, about the outstanding personalities of this city - cavalryman Durova, painter Shishkin, poetess Tsvetaeva. After that teachers have read favorite poems of Marina Tsvetaeva.
Then there was a tour of the exhibition "My Russian Province", which was brought to Bratislava by the Yelabuga State Museum-Reserve. In the paintings, they found an image of the house where the painter Shishkin lived. Many paintings depict the Devil's Settlement, about which the students heard a legend.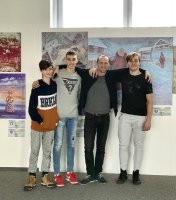 The students received sweets "Mishka kosolapiy", on the wrappers of which were pictures of Shishkin. Everyone was in a good mood. Despite the long road, 160 km from Bratislava to Levice, we agreed to meet once again.