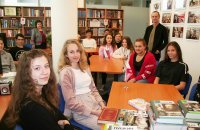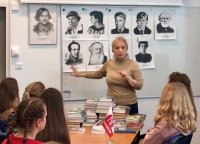 On the 30th of April 2019, pupils of the school at Podluchanka from the city of Levice came for a visit to the Russian center of the European Foundation of Slavic Literature and Culture in Bratislava for the third time.
On that day, an open lesson on Russian language and literature was held. The topic of the lesson was "Russian writers and their relationship with European culture". School children got acquainted with the most famous writers and poets, such as A. Pushkin, M. Lermontov, N. Gogol, I. Turgenev, L. Tolstoy, F. Dostoevsky, A. Chekhov, and others. They listened with curiosity to the stories about the works of writers about their main works, about the relationship with European culture, and, in particular, with the history of Slovakia.
The lesson was held in an interactive form. The students guessed who was depicted on the presented portraits, named the most outstanding works of each writer. During the lesson, everyone could get acquainted with the works and biographies of Russian writers, which were widely represented in the library fund of the center.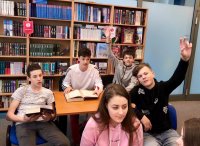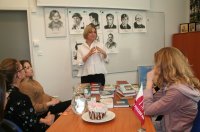 School teachers each time note the interest of students in such lessons. It was especially important to get acquainted with Russian literature, since the school curriculum includes a very brief study of it within the framework of world literature.
The open lesson coincided with the celebration of Orthodox Easter, so it became a real holiday for schoolchildren from Levice. Pupils not only heard about the features of the celebration of Easter in Russia, but also tasted the real Russian Easter-cake. This is a traditional cake. It was especially tasty because it was baked with bright thoughts by the teachers of the Center.
At the end of the lesson, the specialists of the Center gave qualified advice to individual students on the complex issues of Russian grammar.
At the end of the fruitfully spent time in the Russian Center, students visited the halls of the Aircraft Art Gallery, where they got acquainted with the life and works of the famous Slovak painter Adolf Benz.
Schoolchildren were leaving a Russian Center in a good mood. The school received as a gift the magazines "Russian World", and the teacher of the Russian language was given a letter of thanks from the head of the Russian Center for the contribution to the preservation and popularization of the Russian language and culture.