YELABUGA STATE HISTORICAL, ARCHITECTURAL AND ART MUSEUM-RESERVE
Dear Igor Ivanovich!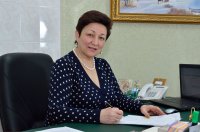 The Yelabuga State Museum-Reserve sincerely congratulates you and your team on the 5th anniversary of the Russian Center in Bratislava!
Your center is a place of attraction for the Russian-speaking people of Slovakia and everyone who wants to learn more about Russian culture, traditions and language. You are doing a big and important job, extremely important for everyone who comes to the Russian Center!
We express our heartfelt gratitude for our successful cooperation, and most importantly - the warm friendly relations that have developed between us and our organizations from the first days of joint work for 5 years!
We are glad that two exhibitions from our stock collection - "The Wheel of Friendship" and "My Russian Province" took their place in the series of bright events of the center. We hope there are many interesting meetings and events ahead of us!
We wish you all good health, a long and happy life, prosperity and successful implementation of all, even the most ambitious plans. And we also wish the Russian Center in Bratislava - prosperity and many years of fruitful work!
Best wishes, team of Yelabuga State
Museum-Reserve and its General director
G.R. Rudenko