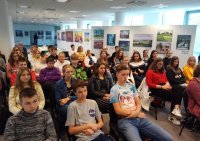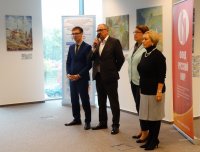 On October 18, 2019, the opening of the "My Russian Province" art exhibition took place at the Aircraft Gallery in Bratislava
The exhibition presents works by participants of the international art symposiums on contemporary art from the stock collection of the Elabuga State Historical, Architectural and Art Museum-Reserve (Russia, the Republic of Tatarstan, the city of Elabuga).
The exhibition includes 110 paintings and drawings (watercolor, pencil, linocut) of 98 painters.
The main symbol of the exhibition was the ancient Russian merchant city of Elabuga - one of the most beautiful cities of Tatarstan, with a unique 1000-year history. It is rightly considered as the pearl of Tatarstan. Landscape works introduce the views of the city - ancient streets, churches, and the chapel of Alexander Nevsky.
In other works, the masters turned to the sources of Russian culture - the national holiday of the summer solstice (The Day of Ivan Kupala), songs, ditties and lullabies, the heroes of the Old Russian epic "Words about Igor's Regiment", the patron saints of the family Pyotr and Fevronya of Murom and many other images.
The Russian center of the European Foundation for Slavic Literature and Culture in Bratislava invited high school students of the Albert Einstein bilingual gymnasium to the exhibition. Firstly, the students attended an open Russian language lesson, which got acquainted them with the merchant traditions of Russia and the city of Elabuga. Also books were presented from the funds of the Russian Center.
Then, the Deputy General Director of the Elabuga Museum, Alexander Degotkov, addressed his speech to the guests. He spoke about the history of the creation of the exposition and other collections of the museum, and conducted tours of the exhibition. Grammar school students did not need a translation. They understood everything and asked many questions.
At the end, guests were treated with traditional national Tatar sweets. The museum donated books to the gymnasium and to the Russian Center.
More details:
http://elabuga.com/news2019/october2019/_exhibitionInSlovakia.html
https://einsteinova.edupage.org/news/#news-4021