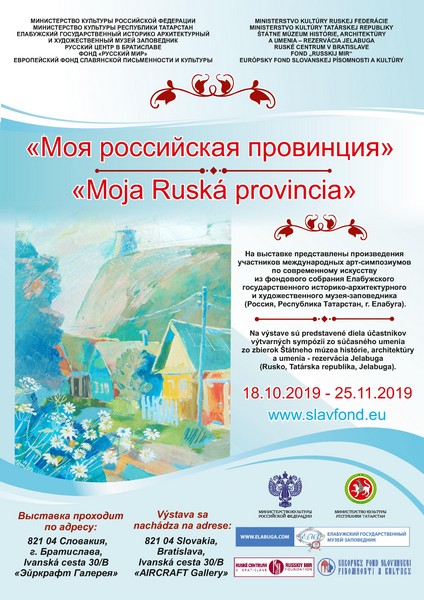 The Russian Center of the European Foundation of Slavic Literature and Culture in Bratislava invites you to visit the «My Russian Province» art exhibition from 18.10.2019 – 25.11.2019.
The exhibition presents works of participants of the international art symposiums on contemporary art from the stock collection of the Elabuga State Historical, Architectural and Art Museum-Reserve (Russia, the Republic of Tatarstan, the city of Elabuga).
The exhibition includes 110 paintings and drawings (watercolour, pencil, linocut) of 98 painters.
The main symbol of the exhibition is the ancient Russian merchant city of Elabuga, one of the most beautiful cities of Tatarstan, with a unique 1000-year history. It is rightly considered as a the pearl of the Republic of Tatarstan.
Landscape works introduce the views of the city - ancient streets, churches, the chapel of Alexander Nevsky.
In other works, the painters turned to the origins of Russian culture - the national holiday of the summer solstice of Ivana Kupala, songs, ditties and lullabies, the heroes of the old Russian epic "Lay of Igor's Warfare", the patron saints of the family - Peter and Fevronia of Murom and many other images.
Contacts:
tel.: +421 2 2086 9950
e-mail: info@slavfond.eu