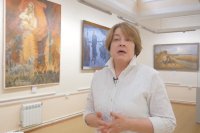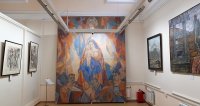 In May, the opening of the art exhibition "Art in War, War in Art" took place at the Museum of Modern Ethnic Art of the Yelabuga State Museum-Reserve, which is a partner of the Russian Center.
The exhibition features 183 items: works by masters of the academic Soviet school of fine arts and contemporary painters, children's drawings, photographs, postcards, orders and medals from the YSMR funds.
To commemorate the 75th anniversary of the Great Victory Day, the Russian Center of the European Foundation of Slavic Literature and Culture in Bratislava offers a virtual tour of the exhibition.
In autumn 2020, it is planned to open an exhibition in the gallery of the European Fund of Slavic Literature and Culture "Aircraft gallery" in Bratislava.
More information about the exhibition: http://www.elabuga.com/events/events2020/_exhibitionWarInArt.html