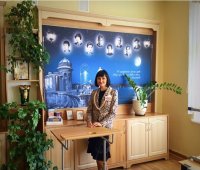 From April 5 to April 12, 2021, the Russian World TV and Radio Company, together with the Roscosmos TV studio, are holding the Gagarin's Route International Competition-Marathon. The marathon is timed to coincide with the 60th anniversary of the first manned flight into space.
During his foreign "Mission of Peace" Yuri Gagarin visited about 30 countries. He made his first visit to Czechoslovakia. Already two weeks after his famous flight, the cosmonaut visited the Metallurgical Plant and a school in the Slovak city of Kosice.
"I feel as happy as when flying into space. I have never been abroad before" - he wrote in the book of guests of honor.
The cosmonaut received many awards for the flight, including those from foreign countries. The President of Czechoslovakia Antonin Novotny awarded the cosmonaut with the title of "Hero of Socialist Labor".
In 1983, a bronze monument to Yuri Gagarin appeared in front of the school building in Kosice.
Streets in many cities and villages of Slovakia are named after the first cosmonaut. Bratislava, Trencin, Golic, Presov, Humenne, Dubnitsa nad Vahom, Dolny Kubin, Michalovce, Senec, Shalya, Snina, Svidnik, Ochova, Stropkov, Nitryansk pravno, Handlova, Bernolavkovo and Luchenets have Gagarin streets.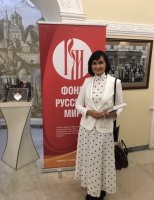 The Russian language teacher Anna Nemtsova from the Pavel Gorov gymnasium in the city of Michalovce spoke about Gagarin's visit to Slovakia in her video.
An excellent teacher, highly qualified professional, responsive person - she is a laureate of several international competitions.
In 2018 she became a laureate of the prestigious international competition named after A.S. Pushkin, where she won with her essay on the topic: "Sanctions: courage or professionalism is necessary for a teacher of Russian studies in his work."
At the international competition of pedagogical skills "Crystal inkwell" in the city of Minsk she won the 2nd place - "Silver inkwell". This competition is annually organized by the International Pedagogical Club, the Ministry of Education of Belarus and the Russian World Foundation.