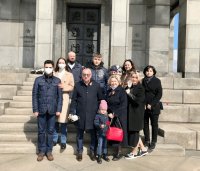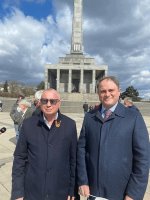 On April 4, 2021, the capital of Slovakia, Bratislava, celebrated the liberation of the city from the Nazi invaders.
Due to the ban on holding mass events in connection with the pandemic, many people could not traditionally meet at the Slavin memorial complex, dedicated to the Soviet soldier-liberator.
Speaker of the Slovak Parliament Boris Kollar, Ambassador of the Russian Federation in Slovakia I.B. Bratchikov, representatives of the embassies of Belarus and Kazakhstan, employees of Russian missions abroad, public organizations in Slovakia, compatriots and citizens came to the Slavin memorial complex.
The delegation of the European Foundation of Slavic Literature and Culture and the Russian Center laid a wreath and flowers at the stele with a bronze figure of the Red Army liberator.
The battles for the liberation of Czechoslovakia from the fascist invaders were fought from September 1944 to May 1945.
During the Bratislava-Brno operation (March 25 - May 5, 1945), the territory of Slovakia was completely liberated from German troops. The troops of the 2nd Ukrainian Front under the command of R.Y. Malinovsky lost 79,596 people, including killed (died in hospitals from wounds) and missing - irrecoverable losses - 16 933 people.