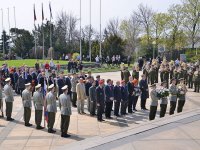 On April 4, a solemn ceremony dedicated to the Day of Liberation of Bratislava was held at the Slavin memorial in Bratislava.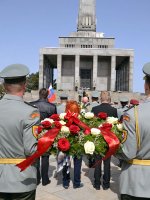 Slavin is the cemetery for 6845 Soviet soldiers and officers of the Red Army who lost their lives in the battle for liberation of Bratislava. The memorial complex is located in the center of Bratislava, being crowned by a 37 meter statue of the warrior liberator.
The ceremony was attended by Alexey L. Fedotov, Russian Ambassador to the Slovak Republic, Vladimir Serpikov, Belarusian Ambassador to the Slovak Republic, members of the Government and of the Slovak Parliament, heads of diplomatic missions and military attaches from Russia, Belarus, Ukraine, Czech Republic, Armenia, Kazakhstan, China and other countries, representatives of political parties and public organizations, war veterans, compatriots and numerous media.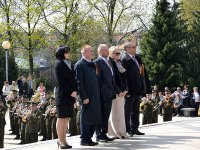 The honour guard in national uniforms and the state military band took part in the ceremony. Anthems of the Slovak Republic and of the Russian Federation were performed. Accompanied by solemn melodies, the ceremony participants laid wreaths and flowers to the monument of the fallen Soviet soldiers.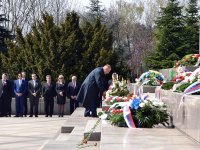 Employees of the Russian Centre in Bratislava and of the European Slavic Literature and Culture Foundation also attended the ceremony and laid a wreath with ribbon and inscription at the memorial. After that, like many other participants of the official events, they went to the national monument of the Liberation of Bratislava in the city centre, mounted on the Gvezdoslav square (
Hvezdoslavo náměstíe
) with the funds raised by Slovak citizens.