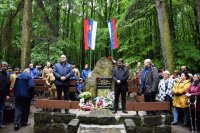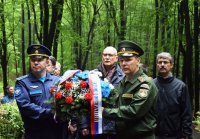 14
th
May 2016 on the outskirts of Bratislava was held a ceremony in memory of red Armenians who died in the last days of the Second World War, the liberation of the city from fascists.
Traditionally, every year on the first Saturday after Day of victory inhabitants of the Slovak capital taken up in the mountain, which is on the outskirts of Bratislava, where died two Soviet pilots.
Later on the plane crash site was built stone on which lay flowers every year. Last year, the stone was restored and new plaque with the names of pilots was put on it, Gorjunov and Efimuškin who were just 29 and 30 years old.
Citizen of Bratislava come here every year on their own, no invitation shall be transmitted. Place of death of pilots is located in a wooded area with no address.
In Slovakia it is known as "Little Slavin" by analogy with big monument "Slavin", which is on a hill in Bratislava, where is buried more than 6,000 red Armenians who liberated Bratislava.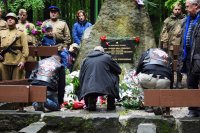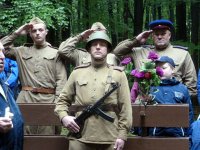 First, they laid wreaths and flowers at a memorial stone. A short speech welcoming Ambassador Extraordinary and Plenipotentiary of the Russian Federation in Slovakia A. L. Fedotov, Ambassador Extraordinary and Plenipotentiary of Belarus in Slovakia V. M. Serpikov, officials Slovakia.
Then on the big meadow next to Little Slavin memorial participants formed fire pit ad prepared simple military meals. Big pot of goulash, buckwheat mash, roast potatoes and songs by the fire scale all present. Irrespective of nationality and native language all sang Russian, Slovak, Belarusian and Ukrainian songs. The honor guard stood at the memorial during the day.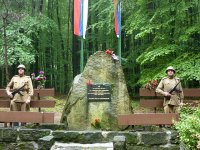 This friendly meeting was attended by famous Russian bard Alexander Gorodnickij file and theatre songs "ZABAVA" of Ulyanovsk.
Employees of the Russian Centre and the European Foudation of Slavic literacy and culture attended the ceremony. On the forest meadow Little Slavin was more than two hundred people. Participants were the civil society organizations, members of the old club, youth, cutting, staff Russia and Belarus Embassy in Slovakia.