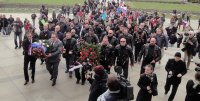 4.5 2016 in Bratislava at Slavin was held a gala ceremony folding wreaths dedicated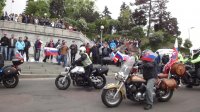 to 71st anniversary of victory in World War II, which was attended by bikers "Victory road to Berlin."
The organizers of are from Russian club "Night Wolves". Their journey leads through Russia, Belarus, Poland, Slovakia, Austria, Czech Republic and Germany. The aim of bikers is to come to the German capital on May 9.
Tour "Victory road" has no boundaries. Despite the restrictions in Poland, Russian bikers continue with their remembering motocross. In Poland they honoured the memory of the victims of Auschwitz, laid flowers on the graves of people who died because of insurgent Ukrainian army. Participants came to Bratislava from the Czech Brno, where they were welcome with bread and salt. Along the way, they affixed to friends and colleagues biker clubs. The colonies were bikers few dozen bikers.
The ceremony took place in Bratislava with the participation of Russian, Slovak, Czech, Polish and German bikers. Slavin attended the event, many people, some came with their children. Bikers greeted by applause and shouting "bravo". Participants went to the memorial of flowers and candles, workers of the Russian Embassy and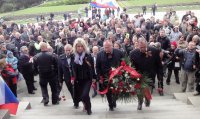 motocross laid wreaths, cut flowers and baskets brought traditional red carnations.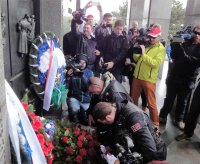 Representatives of the Russian centre in Bratislava fund "Russkiy Mir" and the European Fund of Slavic literacy and culture also attended the ceremony and laid the memorial basket of flowers thank-you sign. It is also a ceremony attended by Slovak representatives of Veterans' organizations and the historic club.
The action took place in complete peace, peace reigned atmosphere, thanked people for peace or fallen over our heads. Also present were numerous Slovak media, television reporters and photojournalists.