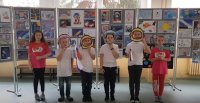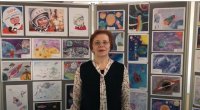 On April 10, 2021, at the school on Drabova Street in the city of Kosice, schoolchildren prepared a video story about the work of the exhibition of children's drawings "Amazing Space". The exhibition is dedicated to the 60th anniversary of the flight of the first cosmonaut Yuri Gagarin https://youtu.be/fO8f7_uRhN8
The exhibition is held within the framework of the project "Kosice - Sovetsk". For several years, two partner schools have been friends and cooperate: the basic school on the street Drabova 3 of the city of Kosice (Slovakia) and gymnasium No. 1 of the city of Sovetsk, Kaliningrad region (Russia). The participants of the exhibition were students in grades 1-4, children aged 7-11 years.
The curator of the project and the ongoing exhibition is the organization of compatriots "Union of Russians in Kosice", chaired by Natalia Dostovalova.
The Russian Center of the European Foundation of Slavic Literature and Culture presents a video for the International Competition-Marathon "Gagarin's Route", which takes place from April 5 to 12, 2021. The organizers of the competition are the Russian World TV and Radio Company together with the Roskosmos TV studio.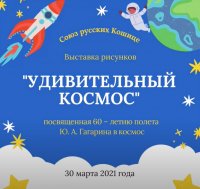 The author of the video is Natalia Dostovalova. She has been the head of the "Union of Russians in Kosice" for many years. An excellent organizer, initiative and not indifferent person, she actively promotes the Russian language and culture in the region, participates in various conferences and forums of compatriots in Moscow, St. Petersburg, Frankfurt am Main, Berlin.
Among the initiatives of the Union of Russians in Kosice are the organization and holding of such events as: Competition "Russian Word", action "Russian film at school", action "Immortal regiment", Concert of Russian songs, Sports Day, Maslenitsa, Children's New Year's party, camp "Buratino", Pushkin Day, support of the children's collective of the Russian song "Friendship".
The unusual format of the exhibition and the drawings themselves aroused the interest of schoolchildren. It turned out very unusual and creative, and most importantly, there are no boundaries for creativity and friendship!