To the President of the European Foundation
of Slavic literature and culture,
honorary member of the Russian Academy of Arts
Professor I.I. Bondarenko
Dear Igor Ivanovich!
The Russian Academy of Arts congratulates the staff of the Russian Center of the European Foundation for Slavic Literature and Culture on the fifth anniversary of its successful activity!
The Russian language is one of the enduring values of the global culture. And your multifaceted activity in the study of the Russian language, Russian history and culture, popularization of Russian fine arts is a huge contribution to strengthening ties between our countries and uniting fraternal Slavic peoples.
In 2016, a new platform appeared in Bratislava, bringing together representatives of the scientific and educational community, cultural and art workers, representatives of creative and youth public organizations, government and public figures.
Employees of the Russian Center systematically build their work with representatives of the authorities and civil society, with different categories of the population, trying to understand the problems of young people, to help them in their creative development and early vocational guidance.
I would like to express my gratitude to the management and staff of the Russian Center of the European Foundation of Slavic Literature and Culture for the large-scale and diverse scientific, educational and cultural activities. I wish you all good health, further success and achievements!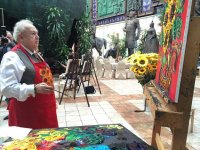 The president
of Russian Academy of Arts
People's Artist of the USSR and Russia
UNESCO Goodwill Ambassador Z.K. TSERETELI