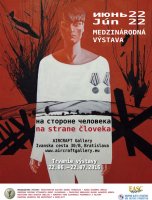 To the 75th anniversary of the Great Patriotic War (1941-1945)
Organizers:
Creative Union of Russian Artists,
Russian Academy of Arts,
Volga regional Department of Russian Academy of Arts,
The European Centre of Fine Arts,
Aircraft Diagnostic Company.
The project was realized with the support of the Ministry of Culture of Russian Federation
Young artists, who are working with the different ways of fine arts, have been asked to review their attitude to the events of the Great Patriotic War of 1941-1945, to feel them, not only relying on the books and movies about the war, but to get into the situation itself of the beginning of a large-scale and terrible tragedy. The task was not to create a memorial work, but to show with available artistic images what arises after a contact with that theme. The main goal of the exhibition is to present the images of the war that has suddenly involved millions of people in its circle. In the focus is a Human. The artist must stand "on the part of a Human side."
The project brought together young artists and masters of contemporary art, whose works were structured and organized conceptual the structure of the exhibition. The triptych of Konstantin Khudyakov "Cherry of the forty-five" will be presented since thirty years from the creation (from the private collection of Alexander Sploshnov). Among the recent presented works – works of Ivan Kolesnikov and Sergey Denisov, the work of Igor Sever on the theme of militarism.
Academic exhibition project events have a goal to develop the dialogue of cultures as a form of diplomacy of the XXI century, to strengthen the humanistic principles and social function of art and to consolidate international cultural relations.
Presentation of the exhibition project will take place in Bratislava, in
the European Centre of Fine Arts on the 22d of June, 2016. Then the exhibition will be presented
in different regions and cities of Russia.
Head of Experimental Creative workshop:
Volga region Department of Arts RAoA and TSHR:
Konstantin Khudyakov
The curator and author of the project:
Vyacheslav Ereshchuk
Project coordinators:
Igor Bondarenko
Elena Prekopova
Svetlana Kuznetsova
Design layout:
Pauline Surovova
Director of the project: