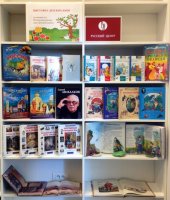 25th April 2016, in Russian centre "European Fund of Slavic literacy and culture" was held opening of the exhibition of children's books.
The exhibition was created from selected books from the library and the Russian centre was dedicated to the International Day of children's books.
Every year in April, the day of birth of children's fairy tale writer Hans Christian Andersen in Russia is celebrated Book Day. Already it has become a tradition to invite children to the Russian centre to learn about the excellent books of Russian writers.
The exhibition presented illustrated history of Russia, the Russian fairy tales, poems I. Krylov, poems S. Mikhalkov, Russian songs and many other children's books. Get acquainted with the exhibition came children of employees, as well as Slovak children from AIRCRAFT children's club. Adult visitors expressed delight of exhibition of children's books and noted unique opportunities of centre and library.