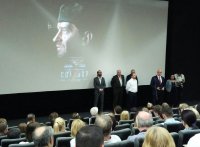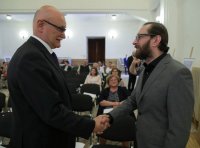 On the 7th of May 2018 in Bratislava series of events, dedicated to the events of October 1943, were held. In those days of war, the only successful of the major uprisings in the Nazi death camps, was the uprising led by Soviet officer Alexander Pechersky and it occurred at the fascist Sobibor death camp.
This event was dedicated to the premiere screening of the film with the same name "Sobibor", which was created by a group of Russian film-makers headed by the director and actor Konstantin Khabenskiy. The performed film in Bratislava had a great interest among compatriots, natives of the USSR and Slovak spectators. In Sobibor camp were killed more than 25 thousand Slovak Jews. This terrible event does not leave people indifferent to this topic today.
Before the film was shown, the press conference of the creators of the film and the organizers of the European premiere of the film was held. With great dignity and great respect, K. Khabenskiy, who played the main role in the film, spoke about the feat of people who decided to take a desperate step and to escape from the camp. The film was based on real events and facts. The head of the Alexander Pecherskiy Foundation Ilya Vasiliev told about the legendary man - the Soviet officer, who led the uprising of prisoners.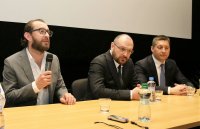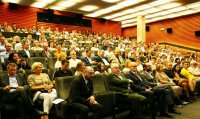 On the same day in the hall of the Slovak National Museum, the International Scientific and Practical Conference "Sobibor" was held, accompanied by an exhibition of photo documents of the Sobibor camp. The creators of the film and Ambassador of the Russian Federation A.L. Fedotov also took part in the Conference. Reports were made by representatives of museums and historical societies from Russia, Slovakia and Israel.
The Russian Center of the European Foundation of Slavic Literature and Culture took part in all events dedicated to the memory of the uprising of prisoners in the Sobibor camp. Teachers and listeners of Russian language courses were invited to watch the film.
The premiere of the film and related events were widely covered by the Slovak media.