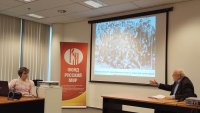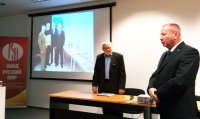 On the 23d of March, 2017 in the Russian Center in Bratislava, at the European Foundation of Slavic Writing and Culture was held an evening on the theme "Russian writer, engineer and traveller N.G. Garin-Mikhailovsky ", dedicated to the 165th anniversary of his birth.
The evening was opened with the interesting story by Russian stage director Andrei Konchalovsky about the great man - Nikolai Garin-Mikhailovsky. The film was shown on the screen.
The history of several generations of Mikhailovsky is closely connected with Russia and Slovakia. Garin-Mikhailovsky is a writer, a daring experimenter in agriculture, an ingenious builder of the Trans-Siberian Railway, an inquisitive and brave traveler, the founder of the city of Novosibirsk. He still arouses interest to this day.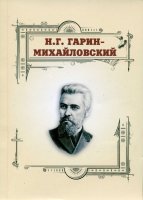 His son Georgy Nikolayevich Garin-Mikhailovsky was an equally educated and gifted man, a graduate of the St. Petersburg University, an employee of Russia's foreign affairs departments, who knew 17 languages, a participant in the "white movement". After the revolution, he emigrated first to Paris, then to Prague, and in 1932 he moved with his family to Bratislava. He was engaged in publishing translations of his father's books in Czech,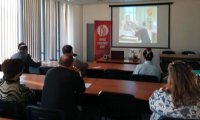 Slovak and French languages. He also published his own works and lectured on Slovak radio. In 1939, he entered the service in the Ministry of Foreign Affairs of the Slovak State, where he has worked until the end of World War II. In April 1945, after the arrival of the Soviet troops in Bratislava, he was arrested by the NKVD and sent to a concentration camp in the Donbas, where he died in 1946.
All this was told by an amazing man, our compatriot, research scientist, engineer, doctor of sciences, honorary chairman and founder of the organization of compatriots of the "Union of Russians in Slovakia" A.V. Chumakov, who knew the entire Mikhailovsky family very well. For many years he was in friendly relations with the grandson of the writer, who was named in honour of his grandfather - Nikolai Georgievich. They often discussed together the tragic fate of his father, the life vicissitudes of other Russian families living in exile. In 2010, the family archives were transferred by the grandson to Russia.
The compatriots who came to the evening listened with interest to the story of an eyewitness of many events of the turbulent twentieth century.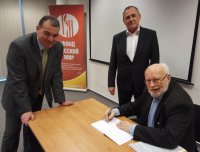 After the end, no one wanted to leave. The participants of the evening asked questions, took autographs, and then continued the conversation over a cup of tea at the Russian Center. A warm atmosphere and a touch of the living history of outstanding Russian people, which are so closely intertwined with the history of Slovakia, left no one indifferent, and made the evening unforgettable.