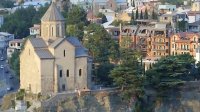 On the 21st of December 2017, in the Russian Center of the European Foundation of Slavic Literature and Culture in Bratislava, the documentary film "Russian Georgians" was shown.
The film tells about the relationship between the two peoples, the proximity of the two cultures, despite the various vicissitudes of recent years. Documentary footage shows the life of Russians in Georgia and Georgians in Russia. Ordinary people tell their life stories.
The film was created with the support of the Russian World Foundation. The film's footage is truthful and convincing. After viewing, it caused heated discussion among the audience. Every compatriot cares about the attitude to him outside his country. The audience expressed positive emotions about the proximity of cultures and ordinary people from Georgia, Russia, Ukraine and Slovakia.