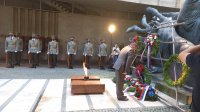 On August 29, 2021, celebrations were held in Slovakia to mark the 77th anniversary of the anti-Hitler Slovak National Uprising (Slovenské Narodne Povstání, SNP, August 29 - October 28, 1944).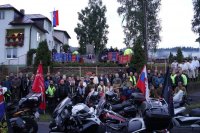 The main events of the celebration took place at the Museum of the Slovak National Uprising in the town of Banska Bystrica. It was in this city that the headquarters of the international rebel movement was located.
Among the participants in the ceremonial events were: a delegation of the Federation Council of the Federal Assembly of the Russian Federation headed by the Chairman of the Federation Council Committee on the Rules and Organization of Parliamentary Activities Vyacheslav Timchenko, diplomatic representatives of the Russian Federation in the Slovak Republic, a delegation of the authorities of the Slovak Republic headed by the President of the country Zuzana Chaputova, representatives of public organizations and citizens of the country.
A significant event in the celebration was the JAZDA SLOBODY (Freedom Run) Motor Ride, organized by the Motorcyclists of Slovakia Civil Association on the occasion of the 77th anniversary of the anti-Hitler Slovak national uprising and the liberation of the country by the Red Army.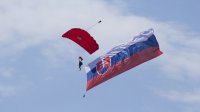 The participants of the motocross visited more than 30 Slovak settlements. In them, wreaths were laid at the monuments of the Red Army and members of the insurrectionary movement. Also, candles were lit from a particle of the Eternal Flame from the Tomb of the Unknown Soldier (Moscow), which the activists of the association carried through the territory of Russia, Belarus, Slovakia and the Czech Republic in May.
An armed uprising against the Nazi regime in Slovakia began in August 1944. The soldiers of the Red Army actively participated in the preparation and organization of the uprising, and the USSR provided significant material and military assistance. Two months later, the Germans, who threw more than 30 thousand personnel and a large amount of equipment to suppress the partisan movement, managed to suppress the uprising and capture a number of its leaders.
The Russian Center of the European Foundation of Slavic Literature and Culture in September plans to hold a Russian-Slovak teleconference dedicated to this event.
Photo: free sources