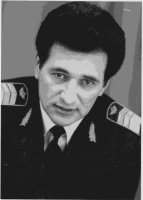 On Jun 4, 2021, at the age of 79, after a long illness, Viktor Antonovich Parkhimovich passed away.
Viktor Antonovich Parkhimovich was born in 1942. In 1965 he graduated from the Kharkov Aviation Institute, in 1988 he gratuated course of the Institute for Advanced Training of Senior Leaders of State Administration of the Academy of National Economy under the Council of Ministers of the USSR. He degreed his Ph.D. and doctoral dissertations. He was a winner of the USSR Council of Ministers Prize. Member of the Academy of Engineering Sciences. Academician of the International Academy of MATEiZ. Honorary Doctor of Riga Aviation University. 1980 - 1981 Vice-rector of the Riga Red Banner Institute of Civil Aviation Engineers, Riga. He worked in a design bureau, at aviation plants, at a university, at the USSR Ministry of Civil Aviation (in 1981-1987 he was deputy, in 1987-1991 he was head of the Department of educational institutions), in an airline.
1991 - 2010
Representative, General Representative of Aeroflot Airlines in Madras (India), Bratislava (Slovakia), Athens (Greece), Delhi (India), Czech Republic and Slovakia (Prague).
2011 - 2018
President of the Slovak-Russian Friendship Society.
Has awards, honorary titles, prizes and is listed on the Board of Honor and in the Book of Honor of Aeroflot.
Viktor Parkhimovich devoted his whole life to aviation.
He was a person who could not live a day without work, until the last day he worked on new textbooks for civil aviation pilots. Three books are in the process of being published, and work on four books remains unfinished.
He was engaged in scientific activities, wrote several textbooks and teaching aids, on aerodynamics, on the repair of aircraft and helicopters, on aviation materials, on the design of aircraft and helicopters, on the history of aviation and others.
From childhood to his last days, he was devoted to aviation. He was a very active, hardworking person, a principled leader. He was a reliable friend and partner, appreciated friendship and respect. He was a person that didn't know weekends, holidays, and what a vacation is.
He will forever remain in the memory of family, friends, colleagues, friends. He was a man with a capital letter, a man of honor, decency and dignity. V.A Parakhimovich was a bright, cheerful, kind and modest person.
It is an irreparable loss. Rest in peace. We express our condolences to the family of Viktor Antonovich.