to the President of the European Foundation
of Slavic Literature and Culture,
Professor I.I. BONDARENKO
Dear Igor Ivanovich!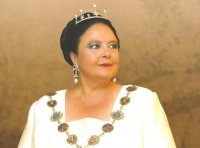 I cordially congratulate you and all the staff of the Russian Center of the European Foundation of Slavic Literature and Culture in Bratislava on the 5th anniversary of its opening.
I wish you health and God's help in the work of spreading and ensuring the study of the Russian language and the traditions of the great Russian culture in Slovakia and in strengthening fraternal ties of the peoples of Russia and Slovakia.
My son and Grand Duke Georgy Mikhailovich and his fiancee Victoria Romanovna join in my congratulations.
I assure you, dear Igor Ivanovich, of my sincere disposition towards you.
Madrid, March 17-30, 2021
H.I.M. GREAT DUCHESS MARIA VLADIMIROVNA