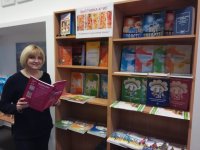 On December 9, 2020 at the Russian Center of the European Foundation of Slavic Literature and Culture in Bratislava, an exhibition of books was opened. The topic of the exhibition was "Textbook is our assistant and friend".
The exposition was formed from books on this topic widely presented in the library of the Russian Center.
The exhibition presents a whole range of textbooks on Russian as a foreign language. Textbooks from such publishing houses as "Zlatoust" and "Russian language. Courses" enjoy the greatest attention of teachers in Slovakia.
Visiting an exhibition of textbooks, gymnasium teachers discover new editions, copy workbooks, and are interested in tests. The exhibition features publications by leading Russian authors - T.L. Esmantova, V.G. Kostomarov, S.I. Chernyshov and others.