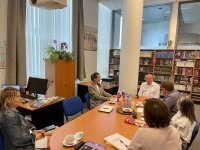 On the eve of the new academic year, on September 7, 2021, at the Russian Center of the European Foundation of Slavic Literature and Culture in Bratislava, a practical seminar was held on the topic "Trends in the development of technologies for teaching Russian as a foreign language and key areas of work."
The purpose of the event is to help teachers of Russian as a foreign language to start learning both full-time and online without any problems.
At the seminar, modern trends in the development of teaching technologies were considered and the key areas of work of the Russian Center in the new academic year were outlined.
It was noted that the Russian Center is ready both for full-time education and online. This year, existing programs have been updated, as well as new ones have been developed: "Russian language for bilingual children", "Speech practice course"
The full-time training format will give students more opportunities to integrate into the educational environment, practice their speech in a new, modern language laboratory, cultural events, meetings with interesting people - native speakers of the Russian language, virtual visits to Russian cities and much more.
A separate topic of the seminar was the implementation of the project "Online School of the European Foundation of Slavic Literature and Culture"
As part of the project, a training platform will be launched, and close cooperation with Russian universities will be established. This will allow pooling development resources in a promising direction, sharing successful experiences.