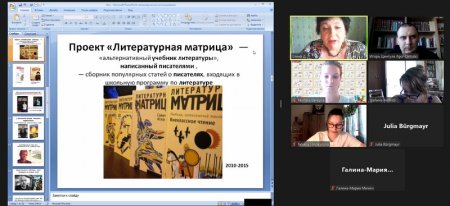 On August 27, the final day of two-week online advanced training courses "Modern trends of Russian as a foreign language and methods of teaching it in a foreign language environment" for foreign teachers of Russian language and literature took place, in which Slovak teachers of higher educational institutions from different cities of Slovakia also took part.
The teachers of the leading Russian university acquainted their colleagues with the current trends in the development of the Russian language and methods of teaching it, and shared their experience.
As part of the busy schedule of the online course program, teachers took part in master classes, lectures and seminars, gained new knowledge, mastered the linguodidactic and professional competencies necessary for the effective teaching of Russian as a foreign language in their countries.
The advanced training program has become an international platform for the exchange of experience in teaching Russian in different countries and introduced teachers from different countries to each other, thereby creating a basis for further cooperation between teachers of Russian as a foreign language from all over the world.
Igor Tsintula,
Postgraduate student of the Department of Russian Studies at the Faculty of Philosophy
University named St. Cyril and Methodius, Trnava, Slovakia