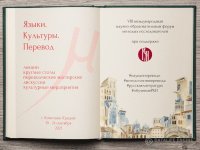 Dear Colleagues! Russian Center in Bratislava of the European Foundation of Slavic Literature and Culture, we invite you to take part in the VIII International Scientific and Educational Forum for Young Researchers "Languages. Cultures. Translation".
The event is organized by the Graduate School of Translation, Moscow State University named after M.V. Lomonosov in cooperation with the Russian Academy of Education with the support of the Russkiy Mir Foundation.
Dates: 19.09 - 24.09.2021
Venue: Center for Russian Language and Russian Culture of the Thracian University named after Democritus, Komotini (Greece)
Young researchers who are taking their first steps in studying the problems of international communication, translation, teaching Russian as a foreign language are invited to participate.
The forum program includes the following scientific and educational events:
lectures, round tables, translation workshops and seminars organized by the Higher School of Translation with the involvement of experienced specialists from other Russian and foreign universities;
speeches and discussions of the forum participants;
cultural and educational activities.
The working language of the forum is Russian.
To participate in the scientific forum, you must fill out the registration form and send it to the email address info_rusperevod@mail.ru before 09/05/2021 with the topic "International Scientific and Educational Forum".
More detailed information about the forum and conditions of participation in it: http://esti.msu.ru/pages/science/conf/conf2021_557.html