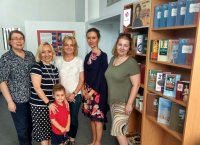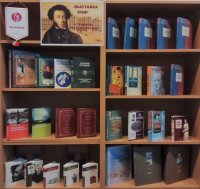 On the 6th of June 2018, in the Russian Center of the European Foundation of Slavic Literature and Culture in Bratislava, an exhibition of books "Pages of Russian poetry" was opened.
The exhibition is dedicated to the International Day of the Russian Language, which is celebrated annually on the 6th of June - on the birthday of the great Russian poet A.S. Pushkin.
The exposition presents the poetic works of various authors from the library fund of the Russian Center. The exhibited books were written by well-known poets, both classics of Russian poetry and contemporaries.
The works of A. Pushkin, A. Blok, N. Nekrasov, S. Yesenin, A. Akhmatova, M. Tsvetaeva, I. Brodsky, J. Drunina, N. Rubtsov, B. Okudzhava, A. Dementyeva and others were presented to the visitors.
The opening of the exhibition attracted the attention of visitors to the library fund of the Russian Center. The exhibition was attended by students of Russian language courses, students and teachers of Bratislava gymnasiums, compatriots.