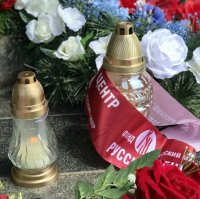 On June 22, Bratislava honored the memory of those killed during the Great Patriotic War. At the monument to the soldiers-liberators at the Slavin memorial complex, commemorative events were held with the lighting of candles, the laying of flowers and wreaths.
Among the participants of the events were members of the National Council of the Slovak Republic, heads of diplomatic missions of Russia, Belarus, Kazakhstan, members of the Slovak Union of Anti-Fascist Fighters, representatives of public organizations, residents of the city.
Employees of the Russian Center of the European Foundation of Slavic Literature and Culture laid flowers and lighted a commemorative candle. And at exactly 12:15 p.m. Moscow time, they joined the minute of silence that took place throughout all Russia. It was at this time eighty years ago that the People's Commissar of Internal Affairs of the USSR V. Molotov turned to the citizens of the Soviet Union and announced about the German attack on our country. "Our cause is right. The enemy will be defeated. Victory will be ours," - was the final phrase of his speech addressed to the Soviet people.
The commemorative action became not only a sign of common grief and eternal national memory, but also another reminder of the heroism of the multinational Soviet people and the inhumanity of Nazism.