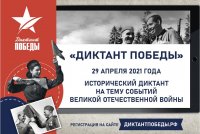 On April 29 at 14.00 (Moscow time) the International Historical Event on the theme of the Great Patriotic War "Dictation of Victory" will take place.
Participants of the educational quiz will be asked to answer 25 questions about dates, military geography, historical figures and the Great Victory in 45 minutes.
Taking into account the difficult epidemiological situation in the territory of the Slovak Republic, the dictation will take place online.
You can become a participant of the dictation by registering on the website dictationpobedy.rf (диктантпобеды.рф) or in the mobile application "Dictation of Victory".
Participation is voluntary and free.
To prepare for the quiz, the site has published tests of past years, historical information, necessary video instructions.
Upon completion of the test, each participant will receive an electronic certificate indicating the name and number of points scored.