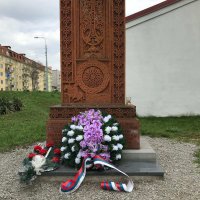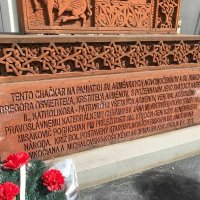 On the eve of the Day of Remembrance of the Victims of the Armenian Genocide, the Russian Center of the European Foundation of Slavic Literature and Culture (EFSLK) held a number of commemorative events.
In particular, on April 23, 2021, an online seminar "Eternal Memory of the People" was held.
The title of the seminar corresponds to the title of the article prepared by the President of the EFSLK, Prof. Igor Ivanovich Bondarenko in collaboration with Academician of the International Academy of Literary Documentary,
Prof. John Surenovich Akopov (https://www.slavfond.eu/1014-vechnaya-pamyat-naroda.html).
The facts presented in this article have become the subject of discussion. The seminar participants were presented with books from the trilogy of the same authors: "Genocide of the Armenian people", the content of which follows from the title, "By strength and cross", dedicated to the history of Russian-Armenian relations and "Crime without repentance" - about the history of the genocide of Armenian children.
On Saturday, April 24, 2021, in Kosice, on the initiative of the EFSLK, with the participation of the rector of the Orthodox Cathedral of the Assumption of the Most Holy Theotokos, St. John the Merciful and St. Rosalie from Palermo, Archpriest Vladimir Spishak, a wreath-laying ceremony was held on the Memorial Khachkar (Armenian "khach" is a cross, and "kar" is a stone).
The monument was made in Armenia with the blessing of the Supreme Patriarch-Catholicos of All Armenians Garegin II on the initiative of a public figure and patron of the arts from St. Petersburg Hrachya Misakovich Poghosyan in memory of the victims of the Armenian genocide in the Ottoman Empire in 1915.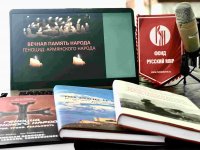 In the late 19th - early 20th centuries, the persecution of Armenians was carried out in the Ottoman Empire, which reached its peak in 1915.
Slovakia is one of those European countries that in 2004 recognized the mass extermination of Armenians at that time as a genocide.
On April 15, 2015, the European Parliament declared April 24 the European Day of Remembrance for the Victims of the Armenian Genocide in the Ottoman Empire.