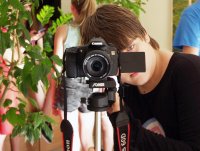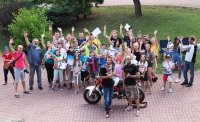 The international children's film camp, which was held from July 14 to 23, 2019 for the fourth time in the picturesque Slovak town of Soporna (Šoporňa), completed its work.
The camp helped to realize children's dreams of playing in the theater, being a TV host or acting in films.
Excellent accommodation at the Hotel Relax Inn, a wonderful international team of teachers from Russia, the Czech Republic, Belarus and Kazakhstan, enthusiasm and a huge desire of the participants to understand the creation of cinema - all this gave rise to an amazing creative atmosphere.
Children from different countries came to the summer camp: from Austria, Czech Republic, Slovakia, Slovenia and Russia. They had a lot of activities, such as: sports games, morning exercises, tennis, kayaks, swimming in the pool and a cultural program, acquaintance with the sights of the region, daily viewing of films in Russian and their discussion. During the time spent in film camp, children learned to speak in front of an audience, give interviews, handle photo and video equipment, shoot videos on their own stories, create full-fledged videos, and correctly and efficiently perform video shooting.
The film camp was organized by the "Union of Russians in Slovakia", a public organization of Russian compatriots, with the support of the Moscow Government and the Slovak Ethnic Minority Culture Support Fund.
The Russian Center of the European Foundation of Slavic Literature and Culture in Bratislava provided informational support for this action and took part in the recruitment of compatriots' children.