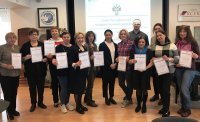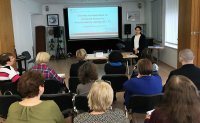 On the 19th of March 2019 in Bratislava, in the Russian Center of Science and Culture, a seminar was held to improve the skills of Russian scientists and teachers of the Russian language.
A seminar on the topic "Test control in the practice of teaching Russian as a foreign language" was conducted by specialists of St. Petersburg State University.
This is the oldest university in Russia. The University Testing Center conducts exams in the Russian language and issues international certificates.
All teachers of the Russian Center of the European Fund of Slavic Literature and Culture in Bratislava underwent advanced training and received certificates.
Topical issues of language testing in Russian as a foreign language, the specifics of listening in the teaching practice, authentic texts for a foreign audience at the A1, A2, B1 levels were discussed on the seminar.
There is a growing interest in learning Russian with obtaining international certificates in Slovakia.
The seminar participants asked many questions on the structure of certification exams, the specifics of preparing students for them and the conditions for conducting them.