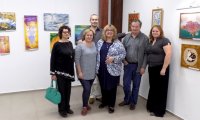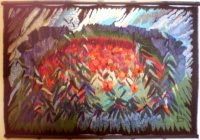 On the 13th of November 2017 in the magnificent exhibition hall in the Nove Zamky city, in the premises of the former Imperial Royal Riding School, which is a national cultural monument, an exhibition of paintings by Russian artists was opened.
The exhibition was prepared by the public humanitarian organization Mirelub jointly with the Russian Center in Bratislava of the European Foundation of Slavic Literature and Culture and the Novovital gallery.
The exhibition was opened in the framework of the international project "Bridges of Art Unite People", which has been held for the third year and is shown in different cities of Slovakia.
The mayor of the city of Nove Zamky, Otokar Klein, under the patronage of whom the exhibition was opened, welcomed the participants.
The exhibition presents paintings by famous Russian artists, members of the Union of Artists of Russia: Alexander Kabanov, Inna Barycheva-Kabanova and Olga Erokhova.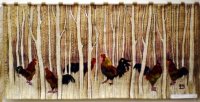 In recent years, Russian artists have exhibited their works in almost all European countries, but this year they decided to make several exhibitions in The Visegrad countries - the Czech Republic, Hungary, Poland and Slovakia.
The opening of the exhibition was covered by the Slovak media.
Read more:
http://www.hlavnespravy.sk/v-pondelok-v-novych-zamkoch-v-ramci-iii-rocniku-projektu-mosty-umenie-ktore-spaja-otvorili-vystavu-obrazov-ruskych-vytvarnych-umelcov/1208650
http://www.nazorobcana.sk/novinka-sprava-aktualita/kultura/clanok-5729/vcera-v-novych-zamkoch-v-ramci-iii-rocniku-projektu-mosty-umenie-ktore-spaja-otvorili-vystavu-obrazov-ruskych-vytvarnych-umelcov