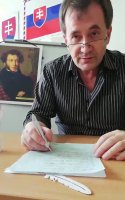 Since 2010, at the initiative of the United Nations, the International Day of the Russian Language is widely celebrated around the world on June 6. On this day exactly 220 years ago, the great Russian poet and prose writer Alexander Sergeevich Pushkin was born.
He is the founder of the new Russian literature and the creator of the modern Russian poetic language. He is known worldwide as the author of the poetic novel "Eugene Onegin" and the prose works "The Captain's Daughter", "The Queen of Spades" and others.
On the 6th of June 2019 in the Russian Center of the European Foundation of Slavic Literature and Culture in Bratislava, a Russian language lesson devoted to the life and works of A.S. Pushkin was conducted. Listeners read poems, discussed the fate of the poet, talked about the productions of performances and the opera "Eugene Onegin" in Slovakia.
But everyone was pleasantly surprised by watching a video clip in which the director of the Russian school in Bratislava, Josef Bacha, read his poem. The school also held lessons devoted to A.S. Pushkin.
An exhibition of photographs entitled "Pushkin in St. Petersburg and in Tsarskoye Selo" opened at the Russian Center of Science and Culture in Bratislava on the occasion of this anniversary.
Literary Museum named after A.S. Pushkin in the Slovak city of Brodzyany prepared the musical-literary program "I loved you ..."