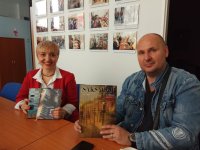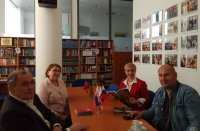 May 23, 2019 in the Russian Center of the EuropeanFund of Slavic Literature and Culture in Bratislava, a creative meeting withthe Ukrainian writer Andrey Duka was held.
The writer began his creative biography in Russia. Helived in the Far North in the city of Magadan. Since 1986, he moved to Ukraine,in the city of Krivoy Rog, where he lives and works until now. He is a memberof the National Union of Journalists of Ukraine, the chief editor of theliterary almanac "Saksagan". The almanac has been published since1991 in Russian language.
Many of his books and articles are known far beyondthe borders of Ukraine and Russia. His works were published in the magazines"Pamir" (Dushanbe, Tajikistan), "Meetings" (Barnaul,Russia), "Stained Glass" (Melbourne, Australia), in the literary andartistic almanac "Tarskie Vorota" (Omsk, Russia). He activelycooperates with the Media group of international publications "TheIntelligent". He is regularly published in the group's magazines "TheIntelligent. Moscow", "The Intelligent. Selected" and "TheIntelligent. New York", which is published in the United States. His book"Journey Through Space" was published in Prague (Czech Republic).
In 2013, he won the international literary contestdedicated to the 95th anniversary of the "Moskovskaya Pravda"newspaper. The competition was held with the support of the Literary Institutenamed after M. Gorky.
At the meeting, the writer spoke about his works, hisbeloved profession, the role of his father, the writer Anatoly Lipitsky, inshaping the artistic taste and personality, interaction with Russian, Ukrainianand other international literary publications and organizations, and about therole of the Russian language.
The meeting was attended by employees and guests ofthe Russian Center and the European Foundation of Slavic Literature andCulture.
The meeting resulted in real assistance inestablishing creative contacts of Slovak writers and translators, with thecreative intellectuals of Russian and Ukrainian compatriots.