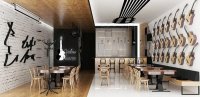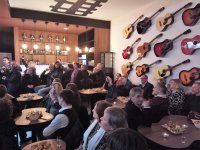 On 25th of January 2019, a unique cafe with the name "The Seventh String" dedicated to the legendary Russian actor, poet, composer and bard Vladimir Vysotsky was opened in Bratislava.
The cafe organizers deeply studied the creative works of Vysotsky and expressed their love in a unique concept of the project. It is planned to hold performances of singers and musicians, poets and writers, exhibitions of paintings by talented novice and famous artists in the cafe.
A beautiful interior design, a varied menu and a program of artists' performances create an amazing atmosphere for meetings of friends, colleagues and those who like to sit in a pleasant atmosphere.
Visitors can enjoy the original cocktail, named after the poet - "Vysotsky". It was created by the Slovak barman Jakub Rampachek, who won the Medusa Coctail 2015 barmen competition and is currently the main barman in "London Coctail Club" in London.
The convenient location in the center of Bratislava and art direction has already attracted a lot of visitors.
Bards from Russia and the Czech Republic performed on the opening day. Their performances of Vysotsky's songs in his style were supported by applauses.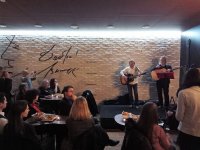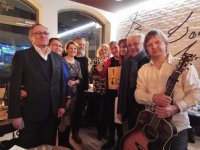 On this day, the cafe hosted a meeting of Russian compatriots with employees of the Russian Center and the Russian Center for Science and Culture.
Read more:
http://www.siedmastruna.sk
http://www.9em.sk/siedma-struna-sa-uz-coskoro-rozoznie-v-bratislave/
https://ru.en.facebook.com/siedmastruna/