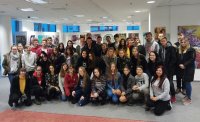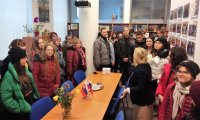 On the 23d of November 2018, in the Russian Center of the European Foundation of Slavic Literature and Culture in Bratislava, an open lesson in Russian language and culture was held. This lesson was dedicated to the 190th anniversary of the birth of Russian writer L.N. Tolstoy.
Students of the senior classes of the Milan Rostislav Shtefanik bilingual gymnasium from the city of Koshice came for a visit. High school students have come a long way to Bratislava, traveling 450 kilometers by bus.
At first they visited the exhibition "The Golden Age of Peterhof. From Peter I to Catherine II "https://www.russkiymir.ru/news/246891/, which is open in the Slovak National Museum. This unique exhibition was brought to Bratislava from St. Petersburg by one of the largest Russian museums - the State Museum-Reserve Petergof. The exhibition contains a lot of personal belongings of the emperors and is timed to the 320th anniversary of the visit of Peter the Great to Bratislava.
Then the high school students arrived at the Russian Center. The works of Lev Tolstoy are included in the school program and aroused a big interest. The students understood and spoke Russian well. Many of them noted the excellent work of the gymnasium teachers, especially Adriana Lauffova, who initiated the trip to Bratislava.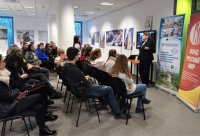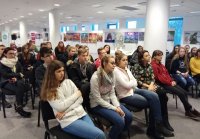 https://russkiymir.ru/news/247795/The open lesson began in the large hall of the gallery, because a lot of high-school students arrived to visit the Russian Center. At first, the students got acquainted with the activities of the center, and then listened to a report on the life and works of the Russian writer L.N. Tolstoy, which was accompanied by a video presentation.
Of particular interest to them was the story of the collaboration of the writer and Slovak doctor, public figure Dushan Makovitsky, who was the personal physician of the Tolstoy family and of the Yasnaya Polyana peasants. Later, he wrote memories of his life in Yasnaya Polyana, about collaboration with the writer, and then translated several works of the writer into the Slovak language.
As an illustration of the works of Tolstoy, fragments from the movie "War and Peace" were shown. Natasha Rostova's Ball and the Battle of Austerlitz made a strong impression with their striking texture.
Then, based on the results of an open lesson, a quiz was held. It was dedicated to the life and works of L.N. Tolstoy. The best participants received prizes with symbols of the "Russian World" Foundation.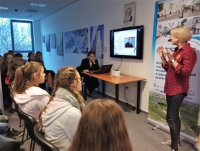 The lesson program also included an attendance of the exposition of the International Art Exhibition "Wheel of Friendship" https://russkiymir.ru/news/247795/, which was brought from the Russian Elabuga State Historical-Architectural and Art Museum-Reserve and represented by 150 works of painters from 21 countries.
The lesson was held in a warm creative atmosphere and ended with a treat of Tatar national sweets.