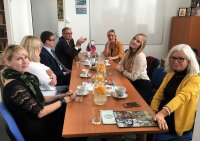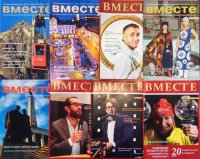 On the 13th of November 2018, in the Russian Center of the European Foundation of Slavic Literature and Culture in Bratislava, a creative meeting was held with the editorial board of the Russian compatriots' journal "VMESTE" (Together).
Magazine "VMESTE" is a cultural and informational printed publication of the Russian-speaking diaspora in Slovakia. It was established in 1999 by the Russian Compatriots Social Organization of the Union of Russians in Slovakia. The magazine was created with the aim of preserving the Russian language and cultural traditions.
At the meeting, the chief-editor of the publication - Natalya Yadryshnikova explained that the main task of the magazine is to unite the Russian-speaking community in Slovakia based on cultural values. In recent years, the magazine has become more colorful and vibrant. This is a great merit of graphic designer Julia Geda, who also took part in the meeting. Also a new issue of the magazine was presented at the meeting.
The Russian center takes an active part in placing materials and illustrations about its activities in the magazine. Almost every issue of the magazine includes articles about exhibitions, Russian language courses and other events held by the Russian Center.
Visitors of the center have the opportunity to familiarize themselves with various issues of the magazine, including archival publications.
All participants unanimously spoke about the pleasant friendly atmosphere of the meeting, about the mutual interesting and fruitful cooperation, which they agreed to continue.