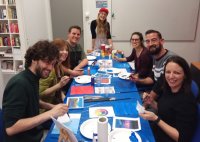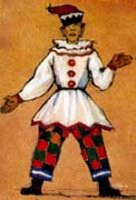 On the 13th of December 2018, new classes began in the painting studio "Petrushka". The studio was created at the Russian Center of the European Foundation of Slavic Literature and Culture.
Why Petrushka? Petrushka is one of the traditional characters of folk puppet shows, made of straw and sawdust. The studio has set itself such tasks - to acquire skills in the field of visual arts, to develop the creative potential of students and to teach them to look at theworld through the eyes of an artist.
A sketch of the costume of Petrushka for the ballet of the same name became a symbol of the studio. "Petrushka" is one of the most exciting ballets. The music of Igor Stravinsky, the costumes of Alexander Benois created a sensation during the Russian seasons of Sergei Dyagilev in Paris at the beginning of the XXth century.
Classes are conducted by Russian painter Yekaterina Grishakova, who is known as the author of paintings in the style of impressionism and as a participant in many exhibitions and expositions. Interest in classes was shown by Russian compatriots, Slovakians and citizens of other countries.
The basis of the course on the visual arts is oil painting lesson. The first lesson revealed to the students the joy of creativity, the secrets of turning a white canvas into a beautiful image.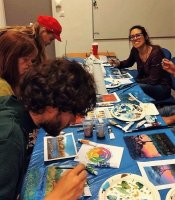 During the lesson, creative atmosphere reigned. Everyone could try to transform a blank canvas into a picture during one lesson.