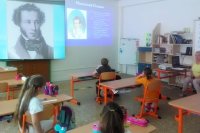 On the 6th of June 2018, students and teachers of the Slovakian-Russian school celebrated the International Day of the Russian Language.
By the initiative of the United Nations (UN) and its Organization for Education, Science and Culture (UNESCO) since 2010 the birthday of A.S. Pushkin is celebrated as the Day of the Russian Language.
Since this year the school participates in this holiday. The pupils learned the poems of Alexander Sergeevich, read the poems together with the teacher and remembered the other works of the great author. They also talked about his biography and great works.
On this day in 1799, an outstanding Russian and world poet, novelist and playwright Alexander Pushkin was born in Moscow. Although Alexander Sergeyevich died very early from the injury in a duel in 1837, he left us a unique heritage of world significance.
The Slovakian - Russian primary school was opened on the 1st of September 2017 in Bratislava. Teaching subjects and disciplines is conducted in Slovakian and Russian languages in order to achieve ideal bilingualism, so that graduates of the school after the 9th year can continue their studies at any secondary school in the Slovak Republic or in the Russian Federation.
More information: https://www.ruskaskola.sk/novinky/den-ruskeho-jazyka

<!--[if !supportLineBreakNewLine]-->