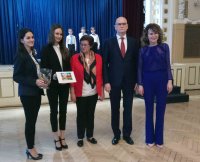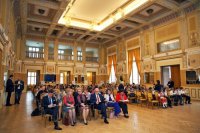 On the 17th of April 2018 in the most beautiful hall of ceremonies of the University named after Y.A. Komenskiy in Bratislava (which is one of the oldest universities in Europe), an album with drawings of Slovak schoolchildren on the topic "Russia with my paints" was presented.
For three years, a contest of children's drawings about Russia was held in Slovakia. Schoolchildren from different parts of the country sent their drawings depicting the Kremlin and the Bolshoi Theater, the poet A.S. Pushkin and the military commander M.I. Kutuzov, cosmonauts Y.A. Gagarin and V.V. Tereshkova, also drawings depicting ballerinas and streets of Russian cities, matryoshkas and heroes of Russian fairy tales. The organizers of the contest were the Embassy of the Russian Federation in the Slovak Republic and the International House of Creativity of Children "BIBIANA".
After the presentation of the album, a concert of pupils of Slovak schools was held. The children sang Slovak and Russian songs, read poetry and danced.
The delegation of the Russian Center of the European Foundation of Slavic Literature and Culture also took part in the action and presented the latest publications of the magazine "Russkiy mir.ru".
Read more: http://slovenka.zenskyweb.sk/clanok/40197-krst-knihy-rusko-mojimi-farbickami