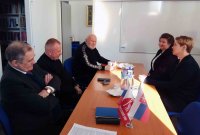 On the 28th of February and on the 1st of March 2018 in Bratislava, several actions were held, connected with the arrival of the delegation of the House of Russian Abroad named after A. Solzhenitsyn from Moscow.
The Economic University hosted a solemn ceremony of donating more than 300 books in Russian to the library of the educational institution. The university library was supplemented by excellent editions of fiction, textbooks on the Russian language and many books written by Russian authors in emigration. The presentation was held in Russian, as well as all the presentations. At the Economic University students study the Russian language.
The ceremony was attended by the rector of the University, Mr. Ferdinand Danihe, employees of the Russian Embassy in Slovakia, representatives of the A. Solzhenitsyn House of Russian Abroad, teachers and students. The Russian center, being a partner of the House of Russian Abroad, also took part in the ceremony.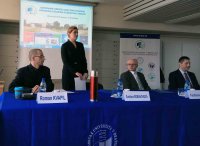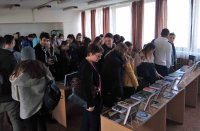 The same day the delegation held a meeting with compatriots in the Russian Center. The main topic of the conversation was cooperation in the field of preserving Russian cultural heritage. Svetlana Romanova, Head of the Department for Interregional and International Cooperation of the House of Russian Abroad, spoke about the activities of the organization, its funds, planned exhibitions and opportunities for cooperation. Honorary chairman of the organization of compatriots of the Union of Russian in Slovakia Alexander Chumakov told about the fate of Russian families who were in emigration in the Czech Republic and Slovakia, many of whom he knew personally.
The Russian Center had already sent books to the Solzhenitsyn Foundation which were published by our compatriots in Slovakia, as well as some archival materials.
The meeting was held in a warm and friendly atmosphere, participants expressed their desire to do everything possible to preserve the cultural heritage of Russia.
The Economic University also gave a lecture on the role of Russian emigration in the cultural, scientific and technological development of European countries after the most difficult revolutions and wars in the 20th century.