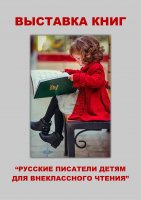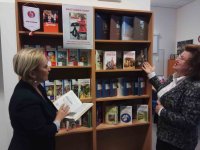 On the 4th of December 2017 in Bratislava, in the Russian Center of the European Foundation of Slavic Literature and Culture, the exhibition of books "Russian writers for children, for extracurricular reading" was opened.
The exposition is represented by editions from the library fund of the Russian Center and is intended for children who are taught the Russian language, parents, teachers and visitors of the center.
The exhibition presents a series of books "My First Book", "The Library of the Junior Schoolchild", "Extracurricular Reading", "World Children's Literature", "Library of Classics" and others.
The books are written by well-known authors and are intended for different ages of children. Among the well-known authors were Konstantin Ushinsky, Vitaly Bianki, Kir Bulychev, Alexander Grin, Anatoly Rybakov, Anton Chekhov, Nikolai Nosov, Lev Tolstoy, Mikhail Lermontov, Alexander Griboyedov, Mikhail Sholokhov and others.
Encyclopedic publications for children, books on history and art are also presented. Particular attention of the guests was attracted by well-published volumes of Russian poetry and Ivan Krylov's fables.
The opening of the exhibition attracted the attention of visitors to the library fund of the Russian Center. They were also interested in the magazines "Russkiy Mir.ru".