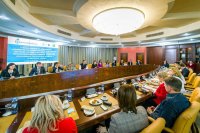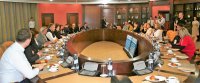 On the 1st and 2nd of June, 2019, in the Siberian city of Khanty-Mansiysk, the V International Conference on the theme "Development of educational, cultural and scientific ties with compatriots living abroad. Contribution to the preservation of the Russian spiritual cultural environment" was held.
The conference was organized by the Ugra government with the support of the Ministry of Foreign Affairs of Russian Federation and Rossotrudnichestvo. The conference was attended by compatriots from 14 countries of the Commonwealth of Independent States (CIS) and Europe.
Ugra Governor Natalya Komarova, Chairman of the Duma of the Autonomous Okrug , representatives of the Moscow Government, the Ministry of Foreign Affairs, Rossotrudnichestvo, the Russian World Foundation, the Moscow House of Compatriots and other officials took part in the opening ceremony of the conference.
Khanty-Mansiysk Autonomous Area - Ugra is located in Western Siberia, is the main oil and gas region of Russia and one of the largest oil producing regions in the world. Ugra is the ancient name of these lands. In her speech, the governor said: "We are interested in that young compatriots living abroad do not lose ties and their roots with their homeland." She shared her experience in preserving the Russian language abroad and stressed the willingness of the autonomous region for cooperation.
Before the opening ceremony of the conference, a reception was held for compatriots, participants of the conference at the Governor of Ugra Natalia Komarova.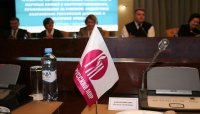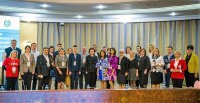 The Russian Center of the European Foundation of Slavic Literature and Culture took part in the conference. The head of the Russian language courses, Natalya Yadryshnikova, spoke about the experience of cooperation between the Russian Center in Bratislava and the administration of the Khanty-Mansiysk district and the Surgut State Pedagogical University. She thanked the Ugra government for assistance in implementtion of the ideas and offered to implement a joint long-term project of Slovakia and Ugra, uniting the cultural and scientific potential of the two regions. Governor Natalia Komarova supported that idea of such a project and suggested to include it in a trilateral agreement.
The conference program included a plenary session, thematic sections, master classes and exhibitions. Within the framework of the conference, a meeting of representatives of the constituent territories of the Russian Federation was held, at which they exchanged experience in the field of support of Russian compatriots and presented proposals for consolidating of regional resources of the Russian Federation in this direction.
The conference aroused great interest and was widely reported in the media.
More details:
https://rg.ru/2019/06/05/reg-urfo/v-iugre-sobralis-sootechestvenniki-zhivushchie-v-raznyh-stranah-mira.html
https://admhmao.ru/press-center/vse-novosti/v-stolitse-yugry-nachala-rabotu-mezhdunarodnaya-konferentsiya-sootechestvennikov/