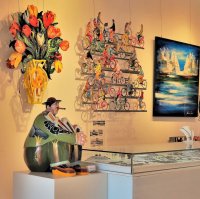 The international competition of children's drawings "The World through the Eyes of Children" is held in Israel from January 2019 to July 2019 in 4 stages.
Pupils of children's art schools, art schools, colleges, art departments of children's art schools, secondary schools, children's educational art workshops, orphanages, as well as independent participants in the following age groups are invited to participate in the Competition:
• younger group 6-9 years;
• middle group 10-13 years;
• senior group 14-17 years old.
The competition is held in the following nominations:
• Painting (watercolour, gouache, acrylic, oil).
• Graphics (pencil, drawing ink, soft materials, linocut, etching, etc.).
At the first stage, in the period from 01.01.2019 to 31.03.2019, the registration of participants and the provision of works of the Competition take place.
The opening of the exhibition and the awarding of winners will be held in June - July 2019, in Israel.
Registration fee for participation in the competition is 40 EUR per participant with the possibility of sending up to 3 paintings to the competition.
You can get acquainted with the conditions of participation in the contest, register, pay the registration fee and upload a picture in digital form at http://www.partnerintergroup.org/
All questions and suggestions can be sent to the organizing committee of the contest by e-mail: 972535001865is@gmail.com