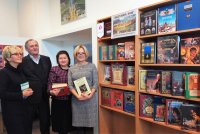 On the 31st of January 2019 in the Russian Center of the European Fund of Slavic Literature and Culture in Bratislava, the opening of the exhibition of books on the subject "History of the Russian State" was organized.
The exposition was formed from books widely represented in the library of the Russian Center.
Beautifully published folios on the history of the Russian state, books about the life of sovereign rulers and noble families, scientific works of historians and popular publications were exhibited for wide viewing and acquaintance.
The library of the Russian Center has the fundamental works of such research writers as S.M. Soloviev, N.M. Karamzin, V.O. Klyuchevsky. These books are presented in the exhibition and allow you to touch the original source of knowledge and to delve into the history.