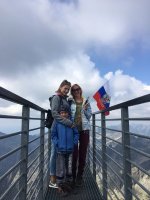 On the 10th of December 2018, the Russian Center of the European Foundation of Slavic Literature and Culture in Bratislava summed up the results of the photo contest "Slovakia and Russia in the lens of the young photographers". Several hundred photos from students of schools and gymnasiums, university students from Slovakia and Russia were sent to the competition.
In their photographs, the contestants depicted the brightest and most emotional moments of the events caught in the lens: photographs from exhibitions and concerts, friends' smiles and the most beautiful landscapes of nature, architecture, sports cars, and tours in Russia and Slovakia.
The photos clearly presented beautiful views of the cities of Russia, St. Petersburg, Sochi, Kaliningrad, their architecture and hospitality of people. The beauty of Slovakia is represented by the most beautiful views of mountain ranges, castles, amazing nature and of course the kind faces of people. Festival participants could not forget about the events of the First and Second World Wars.
The winner of the competition is the photo of Zuzana Polevitskaya from Liptovsky Mikulash. This photo is symbolic. Despite the harsh clouds and cloudy weather, a warm meeting of tourists from Slovakia and Russia takes place on a narrow bridge.
The jury considered that it was this photo that better reflects the name of the competition, and its author deserves the main prize.
Gallery of competitive photos: