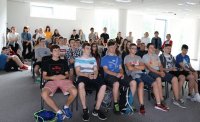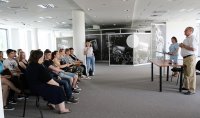 On the 23d of May 2018, the Russian Center of the European Foundation of Slavic Literature and Culture in Bratislava hosted an Open Day for students of the Einstein bilingual gymnasium, which was timed to coincide with the opening of the interactive exhibition "War and Myths", devoted to the main milestones of the World War II.
Students from Gymnasium listened with interest to the history of the creation of the Russian Center, the activities of the Russian World Foundation, the proximity of the cultures of the Slavic peoples, and the close humanitarian and business ties between Russia and Slovakia. They were presented library funds and different possibilities of studying the Russian language in the center. The students watched books, asked questions and made photographs for memory.
After acquaintance with the Russian center, the gymnasium students visited the exhibition "War and Myths". This interactive exhibition, prepared by the Russian Military History Society, was delivered from Moscow to Bratislava with the support of the Russian Embassy. Its opening took place on the eve in the premises of the "Aircraft Gallery", which is located in the same building as the Russian Center and represents unique halls for large exhibitions.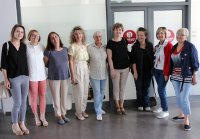 The exhibition convincingly exposes the falsifiers of history, who are trying to rewrite the events of the World War II in their own way. The students examined with interest the documentary photographs, the cadres of the military chronicles, read the texts placed on the stands. The exhibition was adapted for Slovak viewers, so all the inscriptions were made in two languages. The teachers of the center supplemented the exhibition with stories about myths that distort the truth about the war.
During the day, Russian Center was visited by students of several senior classes, aged from 14 to 18 years. In total on this day, 12 groups of gymnasium students came to the center (a total of more than 120 students and 10 teachers of the Russian language, came to the Russian Center). In the gymnasium of Einstein they study Russian Language. The training program provides an intensive course for 20 hours a week, as well as teaching individual subjects in Russian Language.